OPES
Simple.User-Friendly.Paperless
Focus on Your Patients. OPES will handle the rest.
Meet OPES Dental Practice Management Software
---
OPES represents so much more than just another upgrade to your Practice Management software—it's a complete re-engineering of our previous system and represents the 3rd Generation of our Dental Software!
The last 10 years has seen us expand our expertise by applying the lessons learned with the introduction of our Consulting services. Side by side, we've had the privilege of working more closely with dental teams, re-evaluating out-dated systems, developing efficiencies and exploring "Best Practices". We've built a solid and experienced team with great credentials. Along the way, we've also had the unique experience of working closely with all the major dental systems in the market.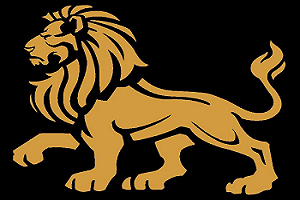 It became readily apparent that a better standard needed to be set for Dental Practice Management. At Timeshift, we've set our sights precisely on that: combining the systems and knowledge we've acquired over the years with the current technologies that makes getting things done easier while providing clearer feedback of your results. Software needs to be made smarter and that's what OPES will be all about.
Patient Charts Comprehensive Patient Data
---
Patient Charts are a crucial part of your dental pratice and you rely on them for day to day operation. They contain the information that allows staff to make informed decisions on future treatments and hygiene scheduling.
OPES makes creating, modifying, and using patient charts easy and painless for the user. You have access to your patients age, sex, insurance, medical and treatment histories all in the same window! Below are more ways OPES helps make working with charts user friendly.
User-Friendly navigation makes working with charts...ENJOYABLE!
Access essential patient data from one easy to read and understand screen.
Multiple User Access allows all staff members to access patient charts simultaneously.
Create & Store patient images with just a few clicks.
All Family appointments visible while on any family member.
All Family Scheduled/Unscheduled/Cancelled appointments visible while on any family member.
Chart audit at a glance, you will know the status the patient's last Exam & X-Ray history.
Setup various custom alerts for individual patients so you can cator to their specific needs.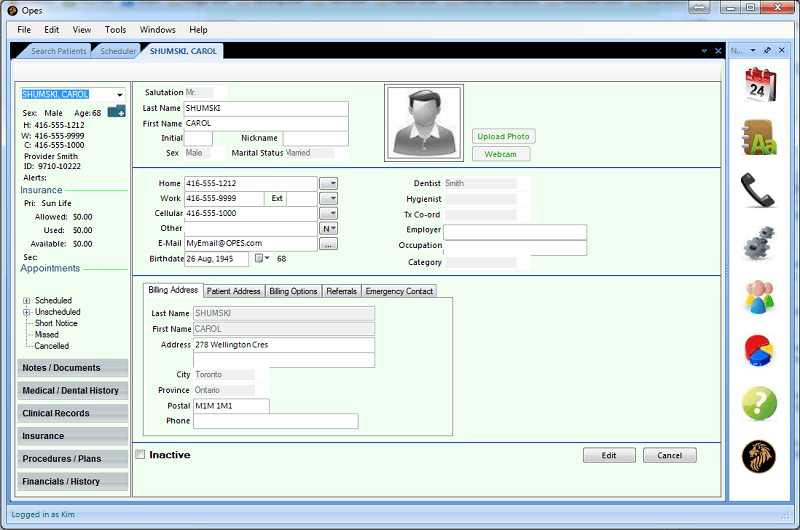 Scheduler Fill open time quickly and efficiently
---
The OPES schedule relies on robust features and visual cues to help you easily manage your day:
Take advantage of colored visual cues help you identify appointments by Attending Doctor, New Patients, Appointment Types and much more at a single glance!
Important Reminders and Short Notice lists are displayed on screen at all times.
Send email appointment confirmations in a few short clicks from the scheduler!
Powerful reschedule options and a list of appointments needing to be rescheduled on screen so they don't fall through the cracks.
Robust options for blocking/unblocking time for your providers. Unclutter your schedule by hiding columns for providers that are not working.
Workstations are synced and automatically refresh to ensure that staff will not double book time slots.
Search for the next available appointment easily without the need to navigate day-by-day to find an open slot.
Access all the patients alerts, contact history, past/future appointments, Pending Hygiene and Pending Treatment without opening a chart!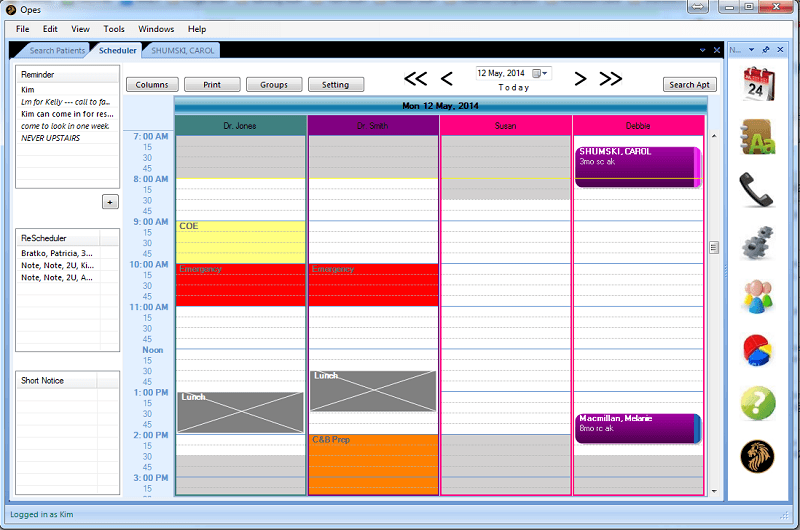 Recall System Increase booked recalls. Maximize profits.
---
Use OPES to keep your patients healthier and grow your Hygiene Department with our easy to use tools!:
Organize your patient's upcoming Hygiene visits through a series of Hygiene appointments, dividing each into clear descriptions (ideal for perio patients on alternating scaling visits)
Setup and Use customized hygiene packages to quickly and easily bill regular codes for your patients.
Pre-booking is just a click & drag from the patient's chart directly into the Schedule!
Provide your patients with an Annual Perio Assessment report card
When performing follow-up of unscheduled Hygiene visits, you're always informed of the status of Family Members along with any outstanding restorative treatment, all at a single glance!
Automatically email patients who are due and overdue for hygiene visits!
Submit a Pre-determination directly from the hygiene pending appointments window.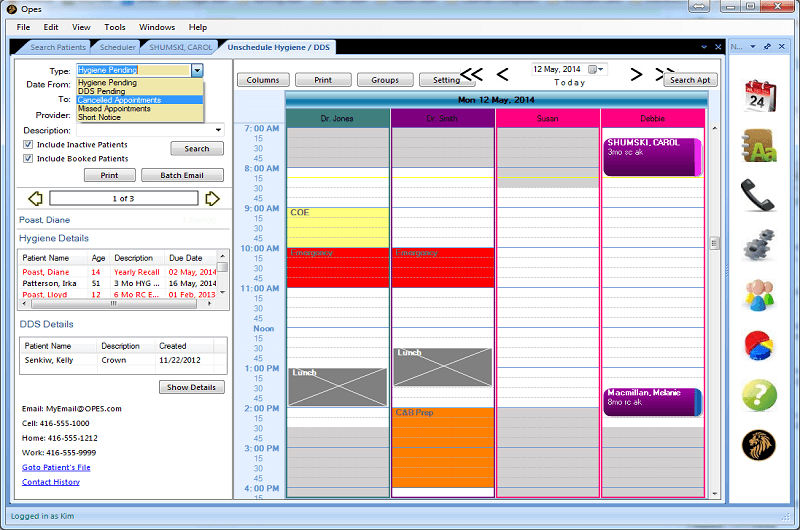 Treatment Planning Managing Dental Treatments is a Breeze
---
With OPES, you are able to easily manage your case types and track them strategically:
Identify the "stage" of each case and quickly display on-screen follow-up lists for each.
Detail your recommendations with an appointment series including schedule time.
Link appointments together that are dependent (crown preps & inserts).
Easily track all Estimates sent and Documents presented with on-screen PDFs.
Easily display progress notes of all outstanding treatment.
Quickly click-drag planned appointments into the Schedule.
Submit a Pre-determination directly from the hygiene pending appointments window.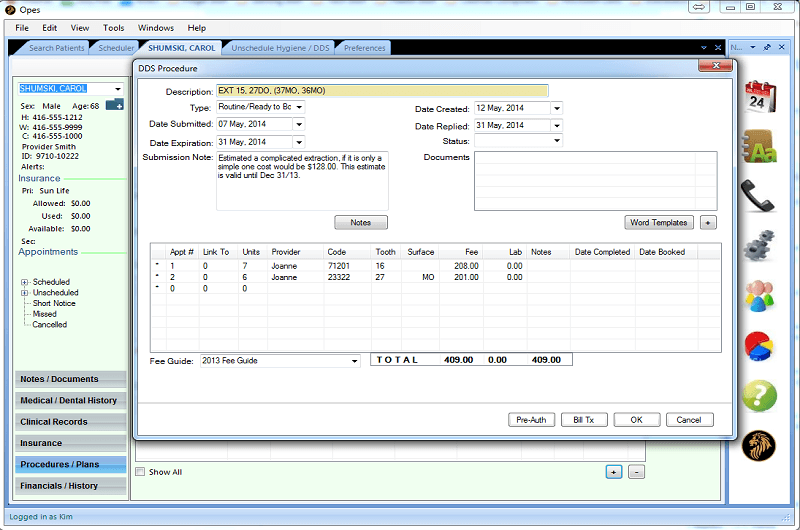 Ortho Contract Billing Simple Monthly Billing
---
Monthly Ortho Billing can be completed in minutes! Billing, reporting and submitting claims in 1 click:
Easily setup monthly contracts for your patients.
Bill your ortho patients every month with a few simple clicks! Even submit to EDI and print out detailed reports.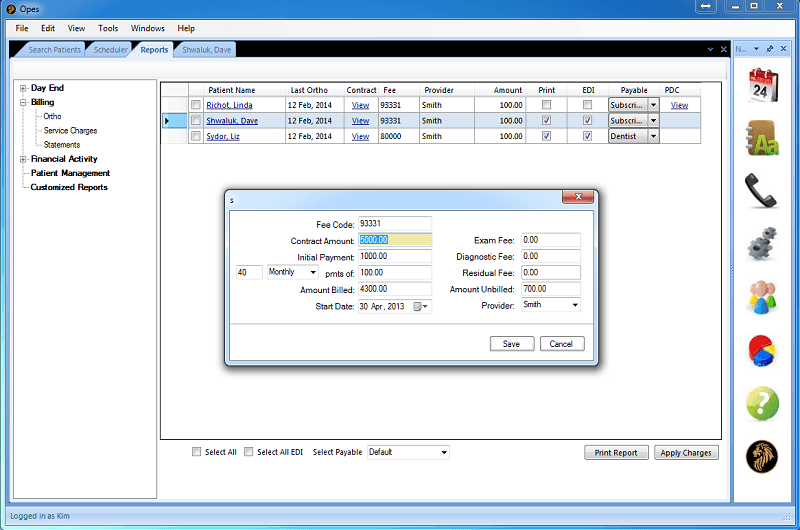 Patient Documents No More Paper, No More Mess
---
OPES organizes all of your patient communications. Choose from our library of templates or create your own.:
Dozens of documents built in ready for you to choose from including: Prescriptions, Payment Agreements, Collection Notices, Treatment Consent Forms, and much more!
Find a template you need but isn't in your template library? You can make your own or give us a call and we can help you create it!
You have the ability to easily email documents to patients, specialists or other practices.
Notes are stored in each patients chart for easy and fast access when you need them!
OPES also allows you to keep detailed contact histories to help you keep track of your patient contacts.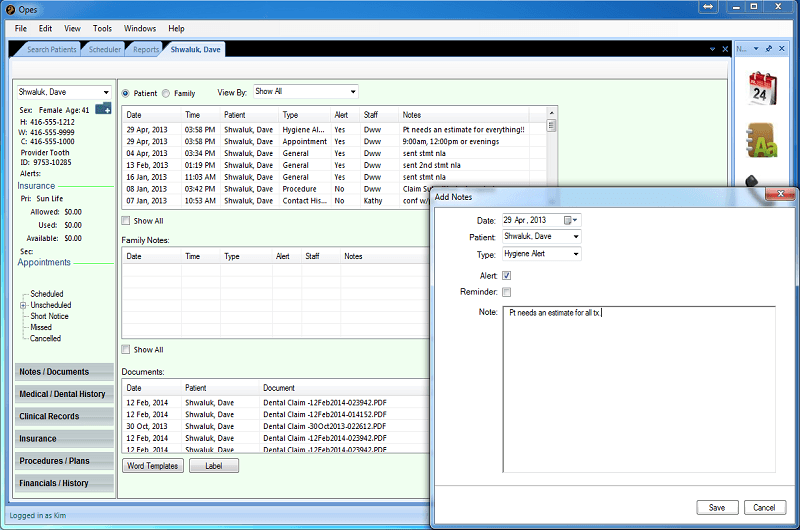 Management Reports Detailed Reporting Available At Your Fingertips
---
OPES provides advanced, usable reports to help manage your patient base and find your growth areas:
Daily Activity reports show you detailed information about your day including production, payments, and corrections.
Deposit slips that can be customized to match your payment types.
Perform your own security audits with reports to track use activity for any day.
Track each providers performance to date and instantly compare it to the same time for the previous year!
Use monthly reporting to monitor production, corrections and collections quickly and easily.
Custom Reports
---
Built in reports not enough? OPES's custom report tool gives you access to limitless information about your practice:
Create reports based on simple or complex criteria.
Simple user interface makes creating reports quick and easy!
Ability to merge report data to sheet labels, newsletters, birthday cards and much, much more!
Track each providers performance to date and instantly compare it to the same time for the previous year!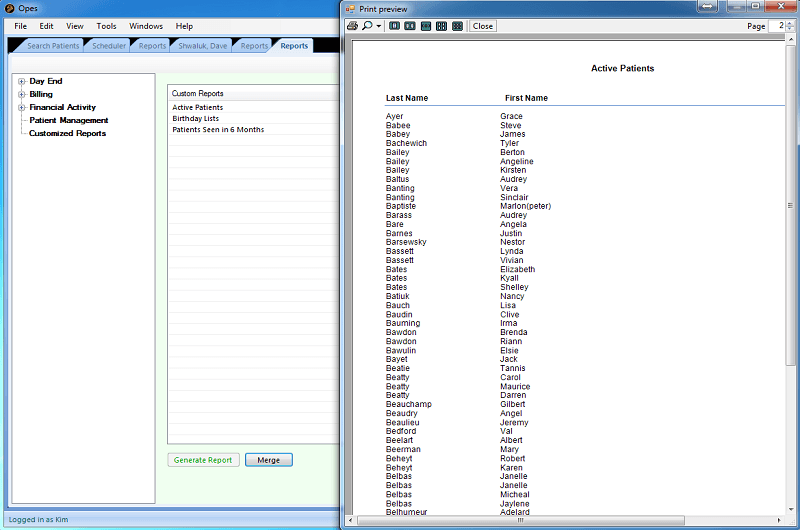 Electronic Charting User-Friendly Charting
---
Electronic Charting has always been complicated and cumbersome. Learn how OPES aims to change all that!
Chart tooth by tooth with a stylus...in the palm of your hand!
Patients can complete their medical & dental histories on a tablet including their signature.
OPES will let you know when your patient is due to update their histories!
Record your progress notes using voice-to-text and save your sound file.
Incorporate an Annual Perio Assessment report Card to your patients with you Perio exams.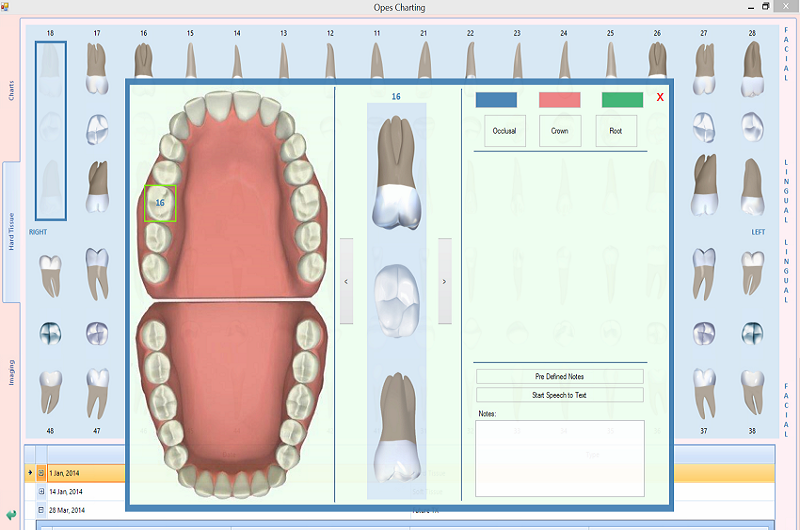 Digital Imaging
---
Seemlessley interface with any digital imaging software to make managing your patients images easy and efficient.
Integrate with any digital imaging software to make management of patient images quick, easy and very efficient!
Take advantage of using your imaging software as if it were an extension of OPES by easily accessing your images through our schedule or patient charts.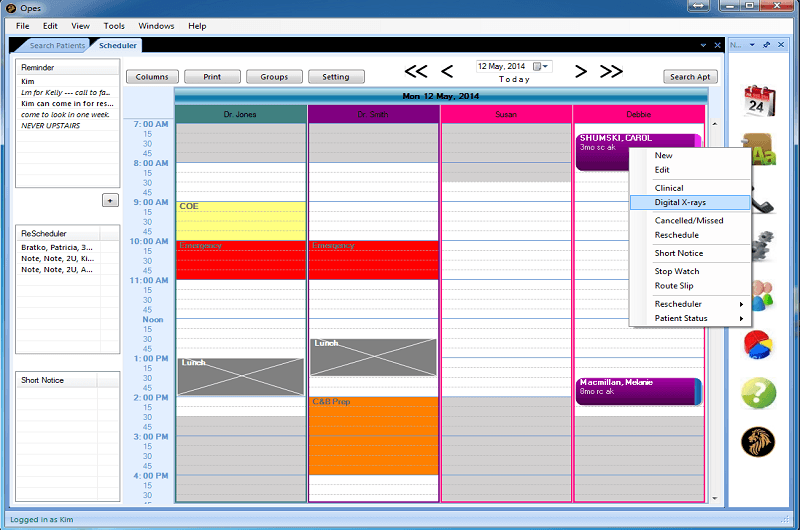 Patient Histories Past Financial & Treatment info all within the patient chart
---
OPES provides the ability to quickly manage your patient balances and to rapidly identify a patient's treatment history.
Support for multiple types of payment arrangements such as Post Dated Cheques and Ortho Contracts.
Setup monthly ortho billing cycles for your ortho patients so you don't lose track of monthly payments.
All EDI Submissions & Receipts are saved as PDF attachments - no more filing!
Easily search for detailed information such as tooth history in just a few easy clicks.
Print informative receipts that are easy to read and add your own customizable comments to make them more personal.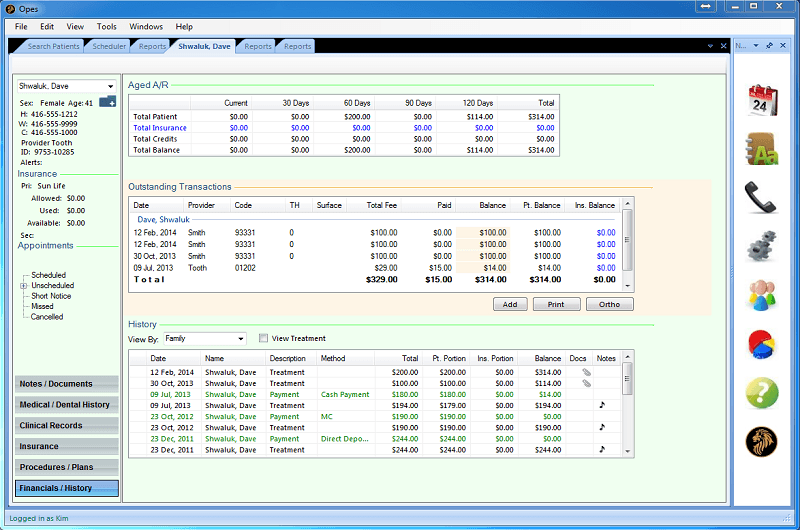 Security / Audit Trails User Rights and Auditing in Real-Time
---
A system is nothing without security. Learn how OPES protects the integrity of your data and discourages fraudulent activity.
OPES provides individual staff log-ins so that management can delegate tasks to specific users.
All activity within OPES is recorded by logged-in user.
Corrections are logged and reported on a daily and monthly basis.
For added peace of mind, any suspicious activity can be emailed instantly to appropriate staff.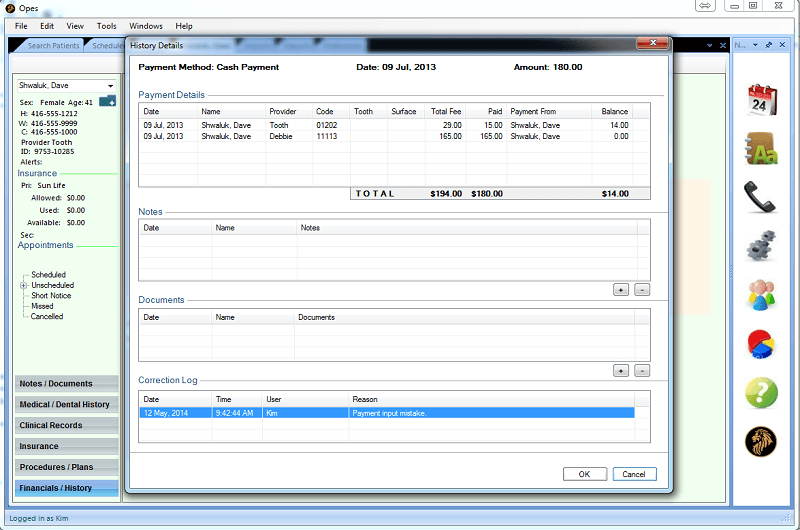 Schedule a FREE Demo Today